Van's Air Force
Western Canada Wing
Oshkosh Diary - 2002
by Hammy McClymont

Milwaukee, 23/7/02

Up at 05:00 and this year, except for a scattered marine layer to the eats by Lake Michigan, itís clear. On the road with Jeff Jacobson at 06:30. Jeff is Wisconsin State Fair Parkís resident engineer. As a student he was Air Force ROTC and has always been crazy about airplanes. Jeff has a medical condition which prevents his obtaining a pilot license for now, but his great interest in aviation will make him fine company for the day. The deal is simple. He drives, I pay.

We arrive at the Museum parking lot at 07:45. We catch the shuttle, buy our tickets, go through the gate at 08:05 and head toward the plaza. Thereís a wind out of the northeast thatís chilly, but the sky is brilliantly blue. No chance of rain today!

First stop is the Aviat display. The usual Huskies, a Pitts and an Eagle. Thereís a new plane too, the same lines as the Husky but it looks lighter. Itís a Pup. The colour is very close to Cub yellow. Iíd read about it but couldnít find anything on Aviatís website

http://www.aviataircraft.com/ Now here it is.

Aviat Readies the 'Pup' for Production

Aviat Aircraft has completed flight testing for their new model, called the Pup. Based on the highly successful Husky A-1B, Aviat brags that the Pup sports more of a useful load, cruises at the same speed, and flies about 200 miles further on the same size fuel tanks.

Like the Husky, the Pup is a two-place tandem, high wing, taildragger with identical measurements in height, length and span. The fuselage is fabric over steel tube and the wings are fabric over aluminum. By contrast, the Pup has 160 hp, instead of 180. It uses a fixed pitch propeller and has
no flaps. This results in 610ft takeoff roll, 105O fpm rate of climb, a service ceiling of 17,000 ft, and a landing roll of 595 ft.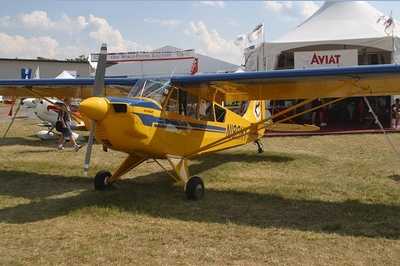 Currently in the final Stages of certification under FAR Part 23, the Pup has undergone extensive flight testing and design analysis. It comes standard with a MicroAir Com, Gtx 320 transponder, PM 1000 II Int, Garmin GPS III, airspeed, altimeter, airspeed, oil temp/pressure, digital tach, EGT/CHT, amp gauge, compass, 600X 6 tires, Cleveland wheels and brakes, polished hub caps and a two-color paint scheme.
"Essentially, we've taken the Husky back to basics and produced an aircraft that has a substantially lower price, yet it still has many of the Husky's desirable performance and design specs," said Aviat President Stu Horn. "This is ah airplane for people who fly for fun and enjoy poking around in the back country.. It requires a little more room than the Husky for getting off and landing, but it can betaken into all the same environments and will be adaptable to floats and skis. Pups do have STOL performance and can be flown in a really wide speed range... 50 to 140 mph." Dealer deliveries of the Pup are expected to begin this fall.
The price tag is $110,000. I suggest we head over to American Champion where most of the prices are still in five figures.
On the way we spot an odd looking Long-EZ. Itís Dick Rutanís latest adventure. We take a good look and talk to one of the guys there. He tells us that, with both engines lit, they go through a load of fuel in 2.5 seconds. Firing one engine doubles the duration. The aircraft itself is having a second life. It was damaged in a hard landing, destroying the engine and the prop, and so was a perfect candidate for a new engine. Now that theyíre getting a handle on the engine, they are trying to raise money for a sub-orbital vehicle. Itís on their website.
http://www.xcor.com/
,
http://www.spacedaily.com/news/rlv-02b.html
;
http://www.airventure.org/2002/fri26/xcor.html
We wish them luck and headed off to the Citabrias.
Another distraction before we get to the Citabrias; I spot Homer Rogers RV-6A. I know itís now powered by one of Jan Eggenfelnerís Subarus, so we stop to look.
http://www.subaruaircraft.com/
Jan is there putting up his signs. I say hello and mention that I know the builder of the airplane. Jan allows that it is a much better airplane now that it has his Subaru FWF package in it. Perhaps, I think to myself, but people wonít be convinced until Jan cleans up the plane. Itís still covered with dust, dirt and bugs picked up on the flight from Florida. I tell Jeff how proud Homer was of the engine he put in the plane, an O-360 out of a surplussed CAF Musketeer which Homer overhauled himself.
Finally we arrive at the American Champion spot. The first plane on the line is a Super Decathalon featuring a 3-bladed MT prop. The premium for the German prop is $3,700. The hefty price notwithstanding, we will see a lot of MT props throughout the day. The little Citabria 7ECA has a speckled paint job. Weíll see some more of these too, though nobody I talk to likes them. The base price is still just over $70,000, but the sticker says $81,000, of which nearly $6,000 is for the avionics package. Thereís no little Champ here this year. Perhaps theyíve given up on the little taildragger with the "foreign" (Jabiru) engine.
http://www.amerchampionaircraft.com/
We head north to the warbirds, cruising quickly through the kit manufacturers area, where the usual suspects are in attendance; Vanís, Lancair with a large presence, the recently announced reductions in their workforce notwithstanding, the new Luscombe and the Zenair uglies. We arrive at the warbirds and walk the jet ramp first. Most of the planes are L-39 Albatrosses, done in all manner of paint. These must be the most affordable jet warbirds available. Trade-a-plane has lots listed. No T-birds, no F-86s, no Tutors. No RCAF paint, except in the distance, on one of the half dozen C-45s (Beech 18s) lined up on the grass.
Thereís a row of Harvards (T-6s). One, in trainer yellow, is particularly immaculate. All the side skins have been removed and are stored on the grass under the fuselage so the owners (a man and his wife) can clean the interior. This airplane is more perfect than any that ever left the factory. These people are going for a prize, and Iím reminded that OSH is like a fair for airplane nuts. Instead of a blue ribbon for best steer or apple pie, you win a certificate for cleanest Texan.
We wander among the P-51s. There donít seem to be as many as usual, in fact, there arenít as many warbirds generally Ė perhaps itís because itís opening day at OSH and people are still on the way. We find a Canadian registered P-51. I forget to write down the registration, but Iím pretty sure itís CF-IKE. "Red" Enns is the owner/pilot. He owns a fishing camp in northern Manitoba and spends half the year in Oklohoma.
As we leave the warbird area, I spot a F4U 7 Corsair. Itís painted in dark Navy blue and carries the name "Alberta Belle". Sure enough, C-GWFU is the Corsair that Gord Porteous told me about when I visited him in Camrose, AB, years ago. Itís fun to find it here.
We spot a pair of F-86s landing. They taxi to the jet ramp. We probably wonít be back up to have a look at them, but Iím glad theyíve made it.
Now itís time for the RVs. There are only two and a half rows of them. Clearly, opening day is not the best choice, though this year, itís my only option. I spot an RV-6 I recognize from the internet. Itís Sam Buchananís. Like Bryan Carr, Sam relies on Rocky Mountain Instruments for flight and engine information. There are no steam dials on his panel.
Sam has a good website.
http://home.hiwaay.net/~sbuc/journal/
Thereís only one Canadian registered RV, an 8 owned by Charlie Douma of Brampton. C-GCSQ is for sale.
We head south through the exhibits, and stop at some that interest us.
Aero-Lift has a rig that allows you to stack airplanes in your hangar. Tedd McHenry has mentioned this as an efficient way to afford to keep your airplane indoors (where it should be). The contraption looks pretty effective, and operating it appears to be simple. It would handle a pair of RVs easily.
http://www.armaerospace.com/
We find a nifty little radial engine. One will be hung on the front of a plans-built wooden Corsair (about 1/3 scale), another sits on a Kitfox (making sense of the mock cowlings that most of the breed seem to sport). I long to hear one - only the sound will prove that it is really a radial Ė but my timing is off. Theyíll run it later. What is it with the Aussieís and their penchant for developing new engines for the experimental market? Whatís happened to Yankee ingenuity?
http://www.radialpower.com
Radial Engine Passion
By Randy Dufault
Rotec Engineeringís sparkling new R-2800 provides experimenters with a new option for a round engine in the 110-hp class.

Paul Chernikeeff of Melbourne, Australia, freely admits his passion for airplane engines. He manufactures a seven-cylinder, 2,800-cubic-centimeter (172 cubic inch), 110-hp radial engine with his brother, Matthew, and the two hope to avoid the mistakes other small aircraft engine manufacturers have made.

Their engine looks an awful lot like a Pratt & Whitney radial that got left in the dryer too long. "I just had a childhood fetish toward the radial engine. Iím a piston engine designer, and combine that with my aviation interests, it was a logical sort of step for me to analyze the way these engines work," Chernikeeff said.

He went on to add, "The engine is 95 percent machined in-house. There are no off-the-shelf components, apart from the accessories, so that allowed us to follow the design philosophy that we wanted to do, and we didnít have to make any compromises. We went down the harder path."

Mounted on a Kitfox for testing, the engine produced 490 pounds of static thrust, compared to 230 pounds of thrust from the Rotax 582 originally attached to the airframe. Two thousand feet-per-minute climb rates are typical with two aboard the plane.

Although the engine is geared, the distinctive sound of a radial is preserved. Maximum engine speed is limited to 3500 rpm, but a typical cruise setting is 2900 rpm. The prop turns at two-thirds of the engine speed.

Starting the engine requires much the same drill as with any radial engine. It must be pulled through to clear the oil from the bottom cylinders, and yes, it does blow a pretty good cloud of smoke after firing, while the remaining oil burns off. Smoke may seem undesirable in this day and age, but for a radial engine enthusiast, it is a necessary part of the package.

Chernikeeff is not a pilot, admitting to being much too busy with this engine project right now to train. But, he did have an opportunity here at EAA AirVenture to fly behind the engine for the first time.

The engine is started each day at 10:30 a.m., and the Kitfox will be flying in the Showcase on Saturday. The engine can be seen at Booth 405 in the North Aircraft Display area.
The Europa, a European design that is making inroads on this side of the pond from their American base in Lakeland, FL, shares a booth with Airmaster, a propellor manufacturer from New Zealand. These guys claim that the mono-wheel version of the plane with make 200 mph with a Rotax 914/Airmaster combination. Building such a project would not be cheap though. It never is when you want to go more than three miles a minute. http://www.europa-aircraft.com/

http://www.airmasterpropellers.com/

Powersport has a booth this year, where they are showing off their Mazda rotary powered RV-6A. It looks like a good installation and there is a small crowd of interested people peering under the hood and around the three-bladed MT propeller. There is a sign that claims they get 215 hp.

http://www.powersportaviation.com/

Finally we find a new American engine. ATP has a turbine engine which is flying in an RV-4. A sign invites us to see it parked out by the runway.

http://www.atpcoinc.com

We pass the NewGlasair spot.

http://www.newglasair.com/ An attractive Victoria-based Glastar (C-GHVY) is part of the display.

Tradition says I have to have a chat with one of the Vanís guys. They have a major presence. At the booth there is the RV-8A, the RV-7 and the new RV-9. On the ramp, they are doing demo rides in the RV-9A and a red RV-6 (Mike Seegerís I think). Business is brisk, Ron tells me. At every airplane there is a line-up of people waiting just to sit in it.

http://www.vansaircraft.com/

We find a hole at the north end of the fence and head down the flight line past Lancairs, Kitfoxes (including one with its cowling bubbles painted to look like it really does hide a radial engine), a particularly ugly CH-801 powered by a Lom in-line engine, and finally, a fabulously beautiful Falco

. http://www.seqair.com/ Hereís what the internet says about this airplane:

First Flight Falco F.8L N70WR, Bill Russell, September 10, 2000

2001 Bronze Lindy Homebuilt-Plans: Falco, N70WRóWilliam Russell, Houston, Texas

A Norwegian builder has crossed the Atlantic in his Falco . Iíve been to his hometown. Itís above the Arctic Circle and I watched the sun not go down there one night.
We come across something that I find really exciting. When I worked at Expo 86, I was always tickled that we managed to have one of Molt Taylorís Aerocars on display in the Aviation Plaza. Now I was looking at another, only this one, owned by Ed Sweeney, is parked beside a British racing green Lotus which Sweeney, wearing a green ball cap, has turned into an Aerocar for the 21st century. Iíve always thought Taylorís way of fulfilling the Popular Science predictions of the early 50s was brilliant, and Iíve always been disappointed that we havenít figured out how to put one of these vehicles in everybodyís garage, or at least in mine.
PLANES, TRAINS AND FLYING CARS: Ed Sweeney of Colorado is hoping to revive Aerocar's dream of mating car and airplane, but not its original design ... The new Aerocar will use a sleek, waist-high, two-seat Lotus Elise for wheels and cockpit, and attach a wing and tail assembly with a separate engine and prop to carry it aloft. Sweeney said NASA and at least two car manufacturers are interested in his idea.
http://future.newsday.com/6/fbak0618.htm
The ATP powered RV-4 is interesting, but is no improvement, looks-wise, on the Lycoming version. Itís the cowling cheeks that make the RV-4 look truly sporty. I do believe the RV-4 is Vanís masterpiece, aesthetically, and more attractive than any other sport plane.
The Hatz Classic biplane, which appeared on the cover of Sport Aviation a couple of months ago, is as well finished an airplane as you will ever see.
A Yellow Thorpe catches my eye. Ken Hicks, one of the regulars at Delta Air Park, has recently acquired one, and I know he would love to see this example of the breed. Powered by an O-290, the airplane is yellow, attractively trimmed with orange, red and black. Bernie Fried of San Antonia, TX, has put up a sign which says "the paint job took a year to finish".
http://www.serfi.org/n18xs.htm
The "Bubble Plane" is next. PA-12 wing and a Bell 47 bubble canopy. This machine graced the cover of Sport Aviation in July 96. Itís for sale for $34,000.
Formula FX Class
| | | | | |
| --- | --- | --- | --- | --- |
| Racer # | N Number | Aircraft | Pilot | Avg Speed |
| 73 | N73SH | Glasair I-TD | Steve Hammar | 239.51 |
| 91 | N91LH | Glasair I-TD | Bruce Hammar | 232.40 |
| 85 | N952W | Glasair IISFT | Don Saint | 218.82 |
| 78 | N78LC | Rutan Long-EZ | Jay Blum | 216.13 |
| 28 | N468JL | RV-8 | Jeff Ludwig | 205.72 |
| 56 | N733JJ | Jordan RV-8 | Scott Jordan | 197.88 |
| 15 | N215TW | Cozy Mark III | Tim Freeze | 181.70 |
| 5 | N642BG | RV-8 | Robert Green | 181.13 |
| 48 | N7219D | RV-8 | Dave Weisgerber | 178.67 |
| 71 | N44WS | Shannon RV-6A | Bill Shannon | 177.00 |
| 72 | N2QT | RV-4 | Bobbi Boucher | 163.20 |
| 11 | N192FW | Four Winds 192 | James Rahm | 148.34 |
| 45 | N224R | Mustang II | Kirk Harrell | - |
The fastest RV-8 in the foregoing list (see all race results at

http://www.airventure.org/2002/airventurecup/results.html ) is beautifully painted. It has a wave which starts where the top and bottom of the cowling meet and widens as it bends down over the wing and up again to the horizontal stab. This is the first RV-8 Iíve seen that doesnít look "square".

Itís time for lunch, but at the new, corporately supported "Airventure", thereís not much choice if you find yourself hungry at "AeroShell Plaza". Thereís the golden arches or DJs, who will sell you everything from brats (this is Wisconsin, after all), to chicken bits. We settle on pizza slices. Next year Iíll have to remember that the tented cafeterias are a better bet.

Lunch done, we wander through the Mooney spot

. http://www.mooney.com/ Mooney has just been acquired by a company that intends to create an integrated product line of GA aircraft, and they have recently announced an across-the- board price reduction of 20%. Still, there arenít many people clamouring to sit in the three models present. I chat with a man who dislikes the sparkling paint as much as I do. "If you bought one from the factory, I imagine you could get them to paint it the way you want", I surmised. "Iíve bought three from the factory, designed the paint schemes myself, and the last of them would have beat the backside off this one!" he replied.

Next door we find a mid 60s M20C. Itís been beautifully renovated; new panel, paint, interior, etc. A much better proportioned airplane, it would suit me far better.

On the way to Buildings A & B, we pass a tent with showcasing a new engine. "Jet A Piston" says the sign.

http://www.thielert.com/en/index.html Maybe this will be the answer to the fuel problem.

On the way out of the buildings we check on Diamond Aviation. It will be interesting to see how the new twin does

. http://www.diamondair.com/contentc/TwinStar1.htm

Iíve admired "Miss Pearl" at OSH, Arlington and at a classic airplane show in California. She is still looking fabulous.
Miss Pearl Aiming for New Vintage Award
By Kirk Gormley
Frank Sperandeo III describes his 1953 Piper PA-22/20 as "Americaís most beautiful and elegant single-engine private aircraft."
Unfortunately, "beautiful" and "elegant" are nowhere to be found in the Vintage Aircraft Associationís judging guidelines.

Be that as it may, Sperandeo has high hopes for winning the Classic Aircraft divisionís new Custom Champion trophy at EAA AirVenture Oshkosh.

Known as Miss Pearl, Sperandeoís burgundy-and-white eye-catcher began life as a Tri-Pacer. Sperandeo, a retiree from the University of Arkansas physics department, bought the plane as a basket case in 1989.

"Nothing but pieces on a flatbed," he said.

Total price, sans engine, panel, and pretty much everything but the airframe: $2,500.

Among Miss Pearlís 37 FAA Form 337s, that cover close to 100 modifications, is its transformation from tricycle gear onto conventional gear, thus its conversion to what is essentially a Piper Pacer.

Other modifications include seats, yokes, gap seals, farings, long-distance fuel tanks, wheelpants, and engine compartment. The engine itself, a 160-hp Lycoming O-320-B2B, has 925 hours on it. As a small crowd of admirers noted earlier this week, it looks brand new.

Why turn a Tri-Pacer into a taildragger? Aesthetics, Sperandeo said. He also wanted to go faster. The drag reduction helped boost the aircraftís cruise speed from 105 to 150 mph.

Sperandeo, who has his A&P rating and is working on his instrument ticket, put 4,500 hours into his restoration over the course of 4-1/2 years. He did all the work himself, including paint.

Sperandeo was landing Miss Pearl at Marion, Indiana, in September 2000 when the plane got caught in a dust devil. The tail end of the fuselage was severely twisted when the aircraft landed sideways and Sperandeo tried to recover. He spent 1,370 hours and $50,000 returning the plane to pristine condition. He finished the work this past March.

This year Sperandeo makes no bones about it. He wants the Custom Champion trophy. Also known as the Bronze Lindy, itís new to the judging competition. The Grand Champion (Gold Lindy) and Reserve Grand Champion (Silver Lindy) remain reserved for aircraft that have been continuously maintained in, or restored to, factory-fresh condition. The Custom Champion division has been created as a way to provide a Lindy trophy to modified aircraft.

The beautiful Swift I noticed last year is back, without a "For Sale" sign. N80791 sports an IO-360 engine rated at 210 hp and features P-51 gear doors and stick controls.

The first time I came to OSH it was in 1996 with my son and my friend Barry Dwyer. He suggested I try to spot Canadian airplanes not by their registrations, but by their appearance. More often than not, we Canadians seem to be more concerned that our airplanes are airworthy than good looking. Today we come across a particularly weathered Mooney M20C. Sure enough its registration is CF-AZA.

As we head south towards the ultralights, I spot an Air North DC-3. I had a ride in one once, from Whitehorse to Old Crow and back, and I wonder if it might be the same one, C-FOVW. The livery notwithstanding, "Yukon Sourdough" is now registered N983DC. Perhaps my high school friend Monty Young, who traces the Canadian commercial fleet as a hobby, can tell me.

The swing through the ultralights is quick. We stop long enough only to look at Fisherís version of the DH Tiger Moth. Itís quite a nice little bi-plane.

http://www.fisherflying.com/tiger.html
Nearby there is a sign that says, "Youíre only one medical away from an ultralight." There was a time I would have ignored it. Not any more.
We walk back through the older airplanes near the Theatre in the Woods, stopping to look at the row of Beech Staggerwings. An owner is polishing one with a for sale sign on it. The price: $455,000.
On the way back to the plaza we stop in at a little fenced and tented area dedicated to the 50th anniversary of the EAA convention, the first of which was held in Milwaukee in 1953. Steve Wittmanís first Tailwind is there, along with a J-5. There are signs with pictures of people and airplanes which say "absent friends". It is pleasant and appropriate; Dan McGowan would have liked it. I tell Jeff of Danís trips to the EAA in the SE5 and the Flybaby.
We pass a Lockheed Electra (the old one that looks like a Beech 18, not the turboprop that was transformed into the Orion and the Aurora). It is a beautiful, polished specimen. My first airplane ride was in a TCA Electra. I was five weeks old.
We look at a C-37 "Tweetie" is parked on the ramp which landed earlier in the day. Itís not nearly as pretty as the Tutor, though the general arrangement is the same.
A strange looking transport baffles us. Two big, very leaky radials and two jet engines power what turns out to be a 1956 Fairchild C123.
As we head north back to the warbird area, a squadron of P-51s passes over in tribute to Gen Benjamin O Davis, the commander of the Tuskegee Airmen. Hats are doffed as Taps is played. It is about 15:00 and this is the first activity that resembles an airshow. We reach the fence along runway 9/27 just in time to watch a B-17 take off. It is impressive. Jeff takes pictures. Rides can be had for about $300. The less well-heeled can ride in the Ford Trimotor for about $40.
In all my visits to OSH (this is my 5th) I have never seen a Grumman (the ones derived from the Jim Bede-designed Yankee) because I have never visited the North 40. As weíre there now, we decide to have a look. We wander through about five rows of airplanes and I find enough Tigers, Cheetahs and two-seaters to satisfy my curiosity. The Gang has not missed OSH entirely, though the low numbers are probably explained by the annual American Yankee Association convention the week before in Cody, WY.
We catch a tram ride back to the plaza and make it to Hangar D. I want to find the Lightspeed booth and check out the "Cross Country" headsets. We are successful, and our test bears out what Rob Prior said in his recent article comparing various models. Manufacturers donít usually sell at OSH, so we look for Eastern Avionics, and find it as it is announced that the building will close in 15 minutes. Eastern has the Cross Country in stock, so I buy it. This is the first time Iíve bought something substantial at the show.
We watch Sean Tucker fling his Pitts all over the sky. He seems to have re-invented airshow flying. Now too many pilots do this kind of show. Three in a row, in fact. The airshow has been on for an hour (it started at 16:00), and itís not until after 17:00 as we find a place to sit and eat ice cream that we see something different. The Red Barons fly 4 Stearmans and a number of their moves show the impact the Snowbirds have had on team flying. Itís fun to watch 4 big, slow airplanes fly tight formation and keep themselves in front of the crowd. Next we get to watch Patti Wagstaff, another splendid aerobatic flier. The show ends with the "AeroShell" Harvards, again a 4 plane team that flies a fine formation program.
The Air Atlanta Icelandic B747-200 is now due. Iím keen to see this because Barney Dunlevy (an Air Traffic Controller at Boundary Bay and AA-1A driver) and his friend Ingrid are supposed to be onboard. The Jumbo makes a low pass from the south, another from the north and lands on 36. As it taxis to the plaza, the announcer explains that the people who have flown from London have been dropped off in Milwaukee and are being bussed to OSH. Someone in the crowd says itís because the plane would have been too heavy to land at Wittman field with 300 passengers on board. It is not hard to imagine how upset Barney will be not to have flown into OSH.
Itís 19:00 and we head off to the Museum. Itís closed to the public to make way for a special Young Eagles event. I think about all the things that are missing at OSH this year. I havenít found the New Tiger (though I read later that they are there). I havenít found Bart Lalonde (maybe heís too busy to make it this year). I havenít seen the Micco display (theyíve been having internal trouble). And I missed Barney. I feel a bit short-changed, but not to the extent Barney does, Iím sure.
As we drive back to Milwaukee in the warm evening light of a brilliant summer day, Iím glad to have made it again this year, for the airplanes and the wingnuts who love them, but I fear for the Fair, that it will forget its connection to ordinary exhibitors as it finds profitability in partnerships with corporations instead, as "AirVenture" seems to be doing.

A member of the
Web Standards Project

Support free speech.
Built on...

...FreeBSD

Van's Air Force Western Canada Wing is not affiliated in any way with Van's Aircraft Incorporated. Western Canada RVator is not a publication of Van's Aircraft or any other corporation. All products reviewed or mentioned are not necessarily recommended for use by RV builders, but are described for information only. All builder's tips are presented only as a source of information and a forum for exchange and the sharing of ideas and construction methods. No responsibility is assumed, expressed, or implied as to the suitability, accuracy, safety, or approval thereof. Any party using the suggestions, ideas, or examples does so at his or her own risk and discretion and without recourse against anyone. The members of Van's Air Force Western Canada Wing, the editor of the Western Canada RVator, and all authors and contributors are not responsible for any product or builder's tips misuse, incorrect construction, or design failure, nor any other peril.

All material on this web site is copyright Van's Air Force Western Canada Wing, or copyright the attributed author, unless otherwise noted.

For comments or suggestions on this web site, please write to